Description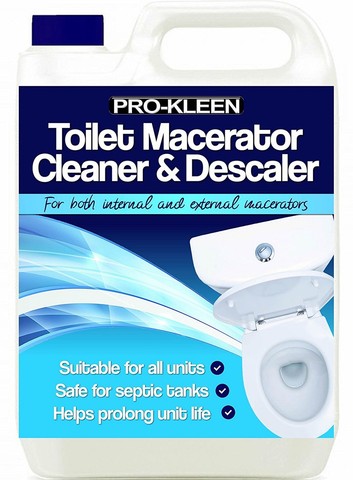 5L of Pro-Kleen Toilet Macerator Cleaner & Descaler
Regularly cleaning and maintaining your Macerator unit helps to protect it from breakdown and keep your systems running
Once the cleaner is within the Macerator unit, the formula descales the tank and cleans away all dirt, matter and grime to keep your unit working at full efficiency.
The phosphoric acid within our formula specifically targets the limescale, a leading cause of failure in Macerator units.
The solution also disinfects and cleans for a complete, thorough clean
We recommend cleaning your system every 3 months however if the unit is used regularly, cleaning it monthly would certainly help keep the unit working at optimum performance.
Compatible for use with the majority of Macerator units including Saniflo
How to use Pro-Kleen Toilet Macerator:
Turn off the pump on the Macerator itself
Pour approximately 1.5-2 litres of the bottle down the toilet and flush
Allow it to stand for 2-3 hours or preferably overnight to allow a complete descale of the tank.
After this period, turn the Macerator back on and the system will be cleaned from within. Allow the unit to pump out and then flush the toilet.